UniSVR is a software-oriented company located in HsinChu Science Park. It pays a lot of attention on the fundamental research on the IOT system and its application software. Main products and service include IoT software products, Private Cloud Computer, Cloud Gateway Controller, Cloud Service and network-of-device system integration.
UniSVR started in 1997 as an application service provider (ASP);, to provide customers with the mail server, server hosting, financial management system, purchase-sales- inventory management system, and many more. UniSVR already provided the cloud service since the last century.
After years of research, UniSVR developed a unique software platform: UniArgus Network-of-Device Platform (UA NoD platform);, which make various devices, in addition to computers, be able to operate through the network. Based on the platform, UniSVR has assisted a number of large companies to set up video surveillance system, and later to integrate different transducer and alarm systems. As practice accumulated, so is our experience and vision, in 2011, we begin to expand our expertise toward the IoT cloud service for general users.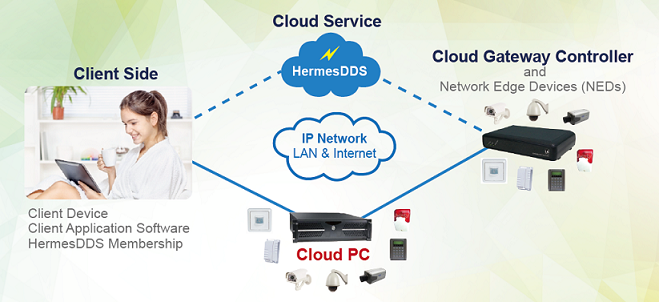 UniPCC IoT Solution Framework
UniSVR's IoT platform has the vision to support the genuine future scenario in the IoT era; that is, these devices may reach tens or even hundreds in number for a person, and some of which may be shared with family and friends to achieve social satisfaction and caring for each other. In this context, UniSVR developed UniPCC IoT Solution Framework, of which the core function of connection between things is realized by HermesDDS Cloud Service. Pleased refer to HermesDDS service for more information.
As till 2015, UniSVR's IoT cloud platform has been in the test run for three years, proved to be stabled and reliable. The application software and SDK for various devices were also developed, which enabled the manufacture or brand owner to develop its own features. Within the same platform, users can easily integrate different brand's products and services to meet their application needs, In addition, in anyone need an own cloud service with unique features for a large application, we are also happy to provide
UniSVR is committed to providing a secure and reliable cloud service to customer. With past decade of ASP experience, UniSVR has proven itself to possess such capability. For consumer products, in order to accelerate the global deployment UniSVR has cooperated with the world's leading web service provider Amazon. UniSVR will continue its efforts to research and development, to meet the future requirements of the IoT application.