Welcome to license
UniSVR provides IoT Cloud service licensing, including the software and hardware in the UniPCC IoT Solution Framework. (You can choose one or all of the options);
HermesDDS Cloud service: no need to license but just pay service free

Private Cloud PC: software license

Cloud Gateway Controller: circuit board manufacturing license and its embedded software license

Client software: software license (including SDK and UniArgus software design consultant);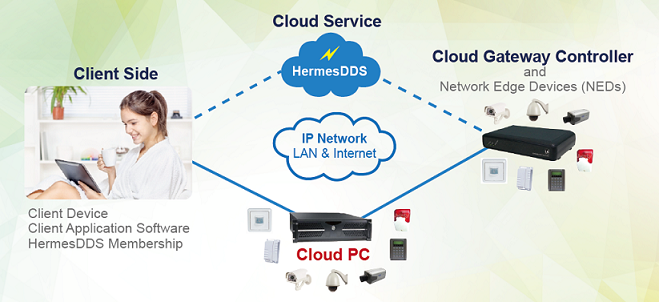 This license deal does not mean everyone should produce the same product. With our design guide, you can integrate relevant devices based on your target scenario, and develop the best fit application software for your scenario through the SDK. Not only this can meet the consumers' needs, this also builds a unique image to your brand. If you do not wish to develop yourself, you can provide us with your ideas, and commission the development to our partner. As long as you got ideas, you will have your own branded IoT products right away, which allow you to quickly enter the consumer market of the IoT.
Application:
Build a smart home
Implement home automation
Watch their loves anywhere anytime
Share live video of interesting activities
Build their private cloud data center
Keep alerted of system and environment events
Suitable for:
Brand owners: Including home improvement, electronics, appliance, or retail brand owners. By licensing our software with your creativity, you can build up your unique product line for sale.
Telecommunication companies: IoT products, especially the video ones, can greatly utilize your existing network infrastructure and create a new option for revenue.
PC Companies: The device used find information and executes application it already shifting toward to the mobile and away from the PC. As the demand for the mobile increases, the market also supplies various cloud applications. However, the consumer IoT application is more for personal uses, and lots of information should not be accessed on the public cloud. Also, there will be obstacles when implementing the smart home or home automation with the public cloud, such as there might be no proper interface for a specific type of data, or network traffic can easily impacts its efficacy. Therefore, a Private Cloud Computer is the future trend that you should not miss.
For more information, welcome to contact us!